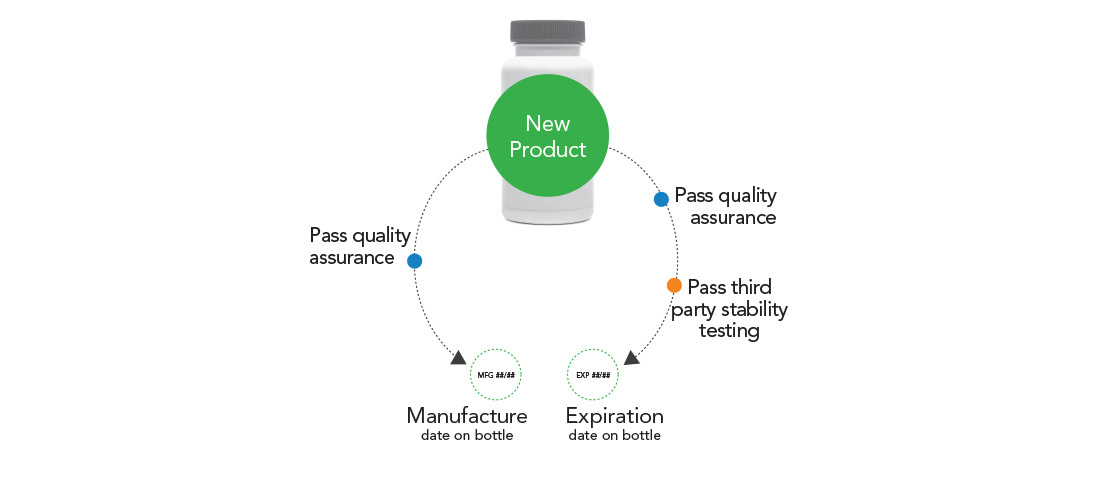 April 24, 2019
Let's Make a Date: Manufacture and Expiration Dates
Every NeuroScience formula goes through independent laboratory testing analysis to ensure what's on the label is what's in the bottle. In addition to standard quality assurance, we include a series of stability tests to confirm a supplement delivers the right amount of ingredients, whether on day one or one day before expiration.
What is the difference between NeuroScience manufacture and expiration dates?
A manufacture date (MFG) indicates the date that the product was produced. An expiration date (EXP) is a date established after the product meets or exceeds third party stability testing expectations.
The NeuroScience portfolio contains products with manufacture or expiration dates
NeuroScience products in the process of stability testing will display a manufacture date while formulas meeting or exceeding the third party stability testing expectations will display an expiration date.
The third party stability testing process begins with accelerated stability testing and lasts between 6 months to 1 year for a single product. After accelerated stability testing is complete, the product then undergoes real-time stability testing for additional expiration date confirmation.
We believe our quality commitments create consistent professional grade dietary supplements that you can stand behind.