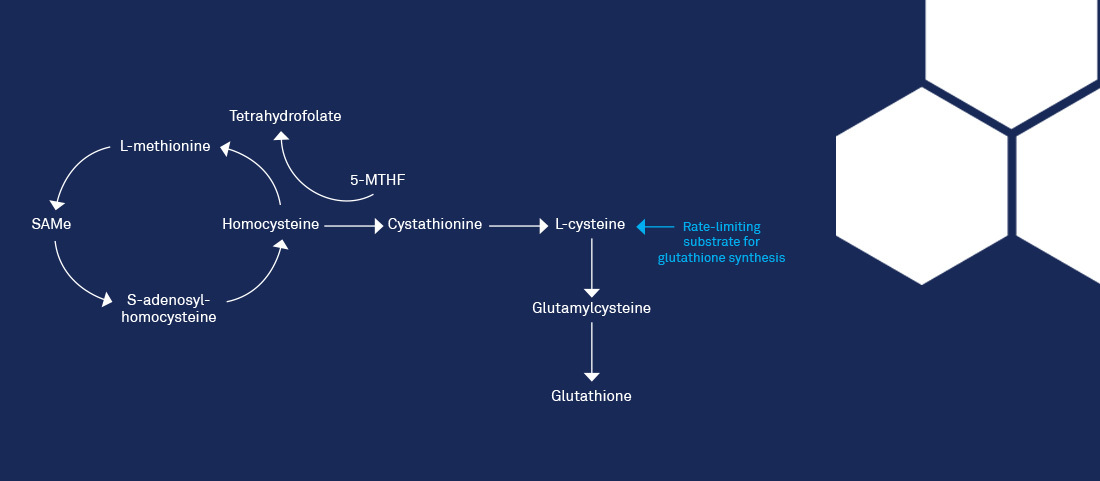 October 01, 2021
Supporting the Seen and Unseen with Calm G
Did you know the "G" in Calm G stands for glutamate, the most excitatory neurotransmitter in our body? Calm G earns its name with ingredients that regulate glutamate activity and support stress-reduction.1,2* The unique blend also offers ingredients important for metabolic health and mitochondrial function.3,4*
An update to Calm G ingredients gives the "G" another meaning: Glutathione. Since the production of glutathione is dependent on available L-cysteine, the single ingredient N-acetyl-L-cysteine has been replaced in Calm G with two amino acids critical for internal glutathione production: L-cysteine and L-methionine.5,6* Along with the blend's active folate, L-methionine supports even more L-cysteine production within the body.5*
Glutathione is a powerful antioxidant that the body produces internally. Antioxidants have a protective effect and scavenge free radicals from the body as well as prevent or reduce the damage caused by oxidation. Oxidative stress can damage DNA and is directly linked to immune activation, which in turn causes many other outward symptoms over time.7,8
Calm G combines the antioxidants CoQ10 and alpha-lipoic acid with key amino acids to support outward symptoms like anxiousness and much harder to see immune-related and cellular needs.*
Download the pathway >
View more science >
Shop now >

References:
Kakuda T, et al. Biosci Biotechnol Biochem. 2002;66(12):2683-6.
Kimura K, et al. Biol Psychol. 2007;74(1):39-45.
Rochette L, et al. Can J Physiol Pharmacol. 2015;93(12):1021-7.
Garrido-Maraver J, et al. Front Biosci (Landmark Ed). 2014;19:619-33.
Minich D and Brown B. Nutrients. 2019;11(9):2073.
Schmitt B, et al. Redox Biol. 2015;6:198-205.
Kasperczyk S, et al. Toxicol Appl Pharmacol. 2014;280(1):36-41.
Pongratz G and Straub R. Arthritis Res Ther. 2014;16:504.