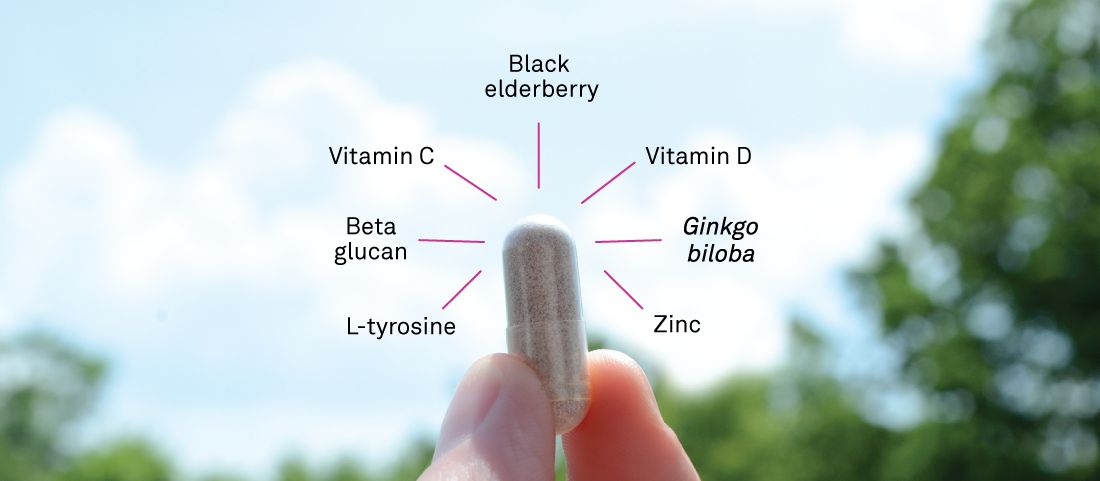 June 06, 2023
ImmuWell: Dual Action Blend Bridging Immune and Nervous System Support
NeuroScience proudly introduces ImmuWell™, a seven ingredient blend uniquely designed to bridge nervous-immune system connections. Featuring Ginkgo biloba extract, beta glucan, elderberry, and tyrosine, ImmuWell is formulated to promote healthy immune responses plus support nervous system impacts from an exhausted immune system.
The nervous system is often considered the "voice" of the immune system, with fatigue, poor mood, and brain fog presenting during immune challenges.* Also common during long term immune activation, these concerns may even linger despite resolving an immune challenge, potentially due to nervous system imbalances in key neurotransmitters like norepinephrine.*
Delivering impactful amounts of researched ingredients, ImmuWell acts in two ways:
Elderberry, beta glucan, Ginkgo, vitamin D, and zinc encourage a healthy response to a variety of immune challenges*
Ginkgo, tyrosine, and vitamin C promote nervous system health, including memory processes and norepinephrine production*
ImmuWell is designed for patients with overall immune health goals, specific needs related to respiratory health, daytime exhaustion, low mood, and/or issues with working memory and memory consolidation.*†
With over 20 years of experience providing brain health services to healthcare providers, NeuroScience is excited to expand its NeuroImmune product category with ImmuWell.

Shop ImmuWell >
Discover more science behind ImmuWell >
Explore a biomarker based product selection guide >
† Symptom depictions represent a possible presentation based on scientific information and claims found on the referenced product spec sheet.